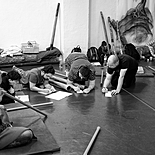 Also in this year we are plannig several workshops in the Czech Republic and abroad. Immediatelly in February we have started by a weekend workshop for beginners. Thanks to big amount of candidates we have decided to repeat the WS in March. Now it seems, that the instrument has brokend through in Czech republic and people pay bigger attention to it, which pleases us a lot.
Photographer: Petr Mader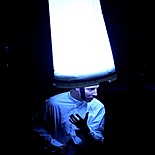 After more than a year, on Thursday 22nd of January has Sváteční pop, the project of Petr Nikl, Milan Cais, Ondrej Smeykal and Jiri Hradil, returned to the Archa theatre. The genre crossing musician, artists and performers enjoyed themselves and performed another one of their unique shows.