4th October 2018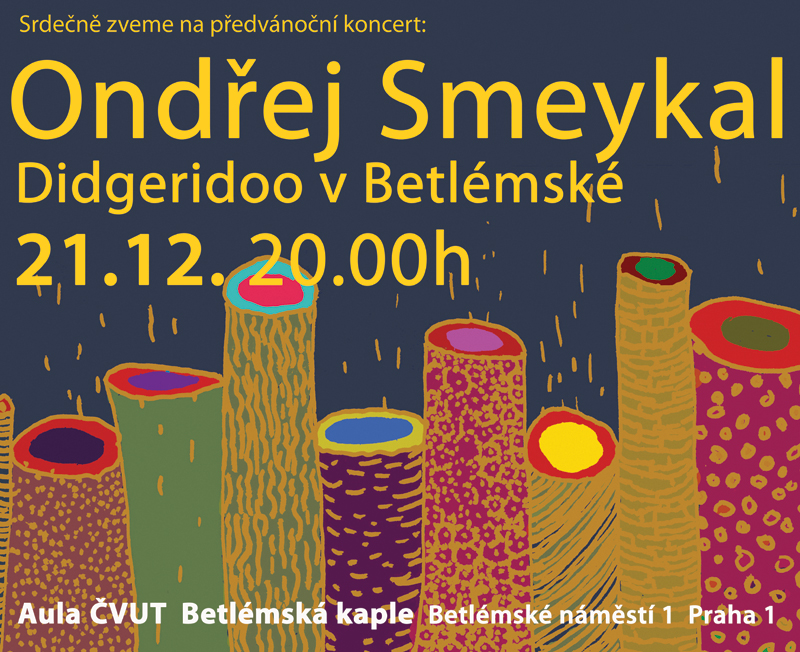 Here is small, but warm invitation to my favorite concert place of this year ...

21. of December, at day of winter solstice, you are welcome to Betlem Chapel, at Prague. This time, every year , I organize concert for all friends to celebrate and enjoy special time.
Time when year is closing down its darkest season and new cycle of Earth is coming up, closer to spring and lighter days...
Every year I try to make some small surprice for audience. Unexpected guests, or some of my hand made prints as gift. This year, one of specials, will be exhibition of my new crystal glass didgeridoo, which will be then beneficially sold and money will be given to aboriginal family.
Concert place is really one of my favorite. It´s natural reverb and musicality, is very inspirational. As well, history of place and Genius loci is something, which makes this evening for me and as well for audience concert place of year..
So, once again you are all very welcome to come together and listen...
O.S.
10 June 2018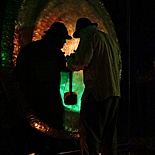 Summer is here, almost like in Australia...

Among all other creativity here is what we working on right now...
For this hot season we are preparing special tour - Vyprava 2018 / Journey 2018
I Ondrej Smeykal - didgeridoo
Andrew Begay - Navaho Flute player
British gong player Blove and his world largest symphonic gong - 220cm
and Aboriginal musician, singer and storyteller from Australia - Rachel Shield
This culturaly unique blend of traditions will be offering roughly month of touring, plus interesting workshops, which I will upload soon... but here is some concert we can slowly start announcing already.
Time and address will be uploaded later as well:
16.8. Sázava Monastery
17.8. Ostrov nad Ohří - Monastery
18.8. Nebílovy Castle (Pilsen area)
19.8. Pacov - open air setup in natural city park behind Pacov Castle
21.8. Vidov, open air setup close by river...
22.8. Rosice Castle (Brno area)
23.8. Fulnek, Monastery church of Saint Joseph (direction Ostrava)
25.8. Zdoňov open air setup close to Polish border in beautiful nature of Adršpach
28.8. Znojmo concert for senior home in Šanov (Southern Moravia)
29.8. Znojmo, Church of Saint Michal (Southern Moravia)
B Love will as well offer in first week of september his Big golden gong sound therapy
We will later upload contacts and places...
Andrew Begay will have workshops of creating under his supervision your own Navaho flute
plus there will be oportunity experience of Navaho Sweat lodge ceremony ...
We will later upload contacts and places...
11.9. Litomyšl - this will be concert in beautiful historical baroque city...
12.9. Panenský týnec - ruins of monastery on very strong geomagnetic Earth line (nearby Praha, direction Karlovy Vary)
13.9. Kladruby Monastery unique acoustic!!! (Direction Rozvadov, nearby Highway from Pilsen)
14.9. Praha Dlabačov Cinema... Last gig of tourne in Prague cinema with rich culutral background and surprisingly nice concert acoustic...
Looking forward to enjoy as well all other gigs in this upcoming exiting concert season!


Hello Friends....
A few years took me to put a bit my web page back in shape...
Being touring a lot in these years, and being announcing actual gigs more thru fb, caused slowing down movements at EN website..soon I will place at EN section as well EN translation of all gigs activities even local ones...
Last years I had been much more active at supporting my local art scene, working with national opera house, theaters, supporting small local festivals and local artists...
I think it has something to do with age. Slowly you realise, you wish to belong to some place and some community.
(I dont mean fb, I mean REAL friendship, which last as well when battery of you laptop go off..)
And this aspect became more intense as well in meaning that you want CONTRIBUTE to your home area..
My CZ page is all the time more than twice active but as well I feel to be again able to nourish with few stories my intnl friends who I miss a lot, and I see them all less then previously...
So I am sending greetings to all of You in didge circles in Usa, around Oregon didg area, but as well L.A. didge nation...Missing Melbourne didg crowd, Freemantle...
I am looking forward to go this summer to France and other places, wishing in future visit and play to all again..
This spring time I would like to invite all sound enthusiasts on our gigs in Wales UK, and as well on my intnl. workhop in Wales!!!!! - 3days retreat with accommodation and great chefcook where we every year in group about 10, go deeper in study of wonderfull instrument didgeridoo.
Tour - Our tour with project Rainbow Road - world largest symphonic gong (220cm!!!) and Navaho flutes together with didges... Acoustic evenings in Wales.. what a blessing to have such a chance.. I am really looking forward!!
This setup will be later this year 2018 as well touring in Central Europe - august and september 2018 with special guest from Australia - aboriginal artist Rachel Shield. If you like acoustic evenings at special ancient sites, dont miss it. Czech name of this tour is Vyprava 2018 and it will be covering most beautiful ancient places..
In June, there is newborn French didge festival!! Nomadidge.
If you like didg music and maybe you are open to do some learning as well, here is invitation to come and enjoy! It is second of three chances do get some clasess with me and experience together didg vibrations.
Third place I will teach and play this summer out of Czech country is gathering - Australienwochenende, Eisenbach, Germany.
Lovely community and great place, where you can meet many didge friends and legends of European didge history... (yes yes, we are all aging...)
In July I am visiting aboriginal community in Arnhem Land with special intention, I will write about later... but what I can say now - some rare instruments will be available form my collection in July.
...and there is a lot of more to write about...
I promise give you soon next part...
O.S.