8 January 2015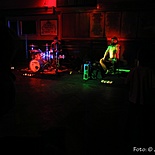 And again we are heading towards the light....
Thanks to all of you who came to celebrate the Solstice with us.
Unill the last moment I had more or less reckoned you won't have the time...
How pleasant is to be wrong sometimes!
The board of Baračnicka Rychta was full. Amazing! I am sure several of you had taken a video of the concert. If you are convinced the material is worth to be presented, just let us know...
The organic dance party is going to roll on again! Ideally every month...
Thanks to all, who had helped to make things move in the last year. I am sure you have enjoyed the end of the year and I am wishing you all the best in the New one....
And what is new in 2015?
We are preparing an opera L2, bit by bit I am discovering the possibilities of didgeridoo in the world of classical music...
The audiobook "Dědeček OGE" (Grandpa OGE) has been successfully finished (you will get to know more about it by the Eminent publishing house soon, or from the author Pavlína Brzáková)
We are ENJOYING the Organic dance parties with Pavel! If you have an idea where to make another party, do not hesitate to contact us!!! (Now, according to your feedback, we are preparing gigs in Znojmo, Rožnov and Břeclav)
The next expedition to Australia is being prepared. If there is anyone who would love to have an eucalyptus didgeridoo, let me know and we can discuss the possibilities....
Ondrej Smeykal